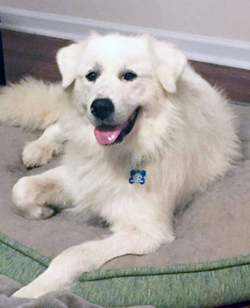 Age
11 months
Weight
75 lbs.
Sex
Female
Breed
Great Pyrenees
Hi, my name is Luv and my name fits as I am the biggest lovebug! I am only 11 months old and weight around 75 lbs. I am in a fabulous foster family and I am learning all the wonderful things about being an indoor dog. I think I am fabulous and should not have to wait too long for the perfect family. I really enjoying getting out and exploring this world and need someone who can keep up with me. If you think I would make the right partner, contact GPRA today for more information at info@greatpyratlanta.com
Donate to Great Pyrenees Rescue of Atlanta
Our main mission at GPRA is to find the right permanent home for Great Pyrenees in distress, whether they are strays or from an overpopulated kill or no-kill shelter. We don't care how old they are or what their medical condition is because we will make sure they receive a comprehensive medical evaluation, spaying or neutering, and even behavioral training if necessary.