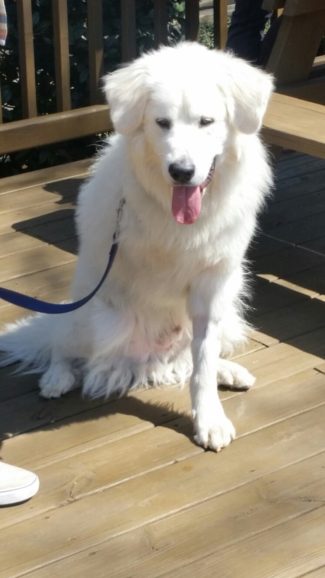 Age
3 years
Weight
80 lbs.
Sex
Male
Breed
Great Pyrenees
Hi everyone! My name is Gunner. I am a precious 3 year old boy who is around 80 lbs. This is the ideal weight for me as you can see, I only have 3 legs. It does not slow me down nor make me less of a Pyr. I was lucky once before, when I became a GPRA Alumni and they helped me when I needed my leg fixed. They took me in, found the best Ortho Vet and had to quickly amputate my leg to save my life. I found a wonderful family that took me in and cared for me and taught me what it is like to be loved and feel whole again. However, life has changed for us all and I am back at GPRA to find my forever family. I am good with other dogs and like to stay active by going to doggie parks to play. If you have hard surface floors, don't worry, I have mastered tile and wood floors and I can even climb stairs. Please consider me even it I don't have all my legs. I promise you that this is not a handicap for me at all. For more information about me, contact GPRA today at info@greatpyratlanta.com
Donate to Great Pyrenees Rescue of Atlanta
Our main mission at GPRA is to find the right permanent home for Great Pyrenees in distress, whether they are strays or from an overpopulated kill or no-kill shelter. We don't care how old they are or what their medical condition is because we will make sure they receive a comprehensive medical evaluation, spaying or neutering, and even behavioral training if necessary.