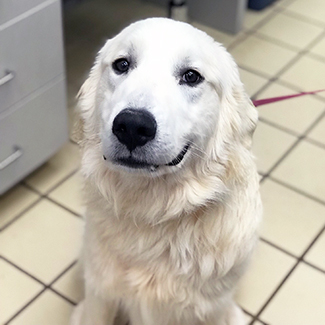 Age
6 mths
Weight
64
Sex
Male
Breed
Great Pyrenees
Hey! Hi! Hello! Sniff, sniff, sniff. My name is Denzel. I am a sweet and loving 64 lb, 6 month old pup that digs checking everything out. I am here at GPRA because my family was losing their home and didn't think it was fair for me to end up homeless too. I'm a really smart and handsome boy. I know how to sit, shake, find my place and give lots of love and kisses. I love everyone…even other dogs AND cats! I have got lots more love to share and cannot wait to find a new family to share it with. I am ready when you are! Woof! Just contact GPRA at info@greatpyratlanta.com.
Donate to Great Pyrenees Rescue of Atlanta
Our main mission at GPRA is to find the right permanent home for Great Pyrenees in distress, whether they are strays or from an overpopulated kill or no-kill shelter. We don't care how old they are or what their medical condition is because we will make sure they receive a comprehensive medical evaluation, spaying or neutering, and even behavioral training if necessary.