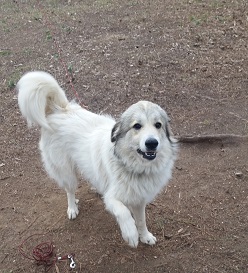 Age
1.5 years
Weight
70 lbs
Sex
Female
Breed
Great Pyrenees
Hi My name is Cora.  I am a stunning young girl just over 1.5 years old who is looking for my forever home where I can remain safe and happy.  I am a very happy girl that is welcoming to other furry critters and excellent with children.  As perfect as I am, I do need some help with one challenge that I keep being told is bad.  I have dreams of being the next Gold Medalist in the High Jump in the 2020 Summer Olympics.  I have incredible strength in my legs that helps me leap over fences.  I know this is not safe and it has caused my last family a lot of pain and frustration.  I believe with support and love, I can overcome this dream and look towards a future with new dreams.  Hey,  I wonder if I could become the "Worlds Most Lovable Dog?"  I know I have it in me!  If you think I would be a great addition to your family, please contact GPRA today at info@greatpyratlanta.com.
Donate to Great Pyrenees Rescue of Atlanta
Our main mission at GPRA is to find the right permanent home for Great Pyrenees in distress, whether they are strays or from an overpopulated kill or no-kill shelter. We don't care how old they are or what their medical condition is because we will make sure they receive a comprehensive medical evaluation, spaying or neutering, and even behavioral training if necessary.